Tally is a software that began their journey as accounting software where SAP Business One is designed as an ERP from the beginning.
Both Tally and SAP offer several products and solutions, Tally is usually used by small to medium sized companies whereas SAP is used by medium to large size company in fact SAP's market leading solutions are targeted towards large corporations. Tally can be termed as ERP software that offers very basic functionalities, while SAP offers sophisticated features of the ERP software in India including automations and integrations.
In India, big brands are using SAP as a model for their digital transformation. Corporations are always looking for SAP implementation partners in India.
"We have partners like SAP, Microsoft, PwC, Accenture have come together to look
at every single node of our value chain and make us future-ready, for Raymond 3.0," Raymond's CEO Sanjay Behl : Link
Avaniko being one of the leading SAP Business one partner, compares between SAP and Tally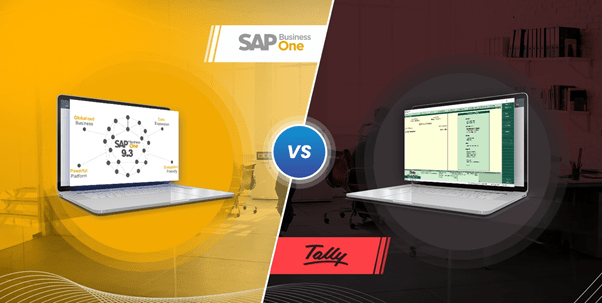 | | | |
| --- | --- | --- |
| Features | SAP B1 | Tally |
| Business Specialization | SAP B1 is available for all industry as there are specific addons for any verticals including construction, textiles, Retail and Manufacturing [Inner link to Avaniko Retail] | It's more of accounting package and if you have any specific industry requirements, you need to build for you, which will be tiresome and time consuming. |
| Future Ready / Intelligent Enterprise | Be it Machine learning, chatbot or block chain technology SAP's technology is always ready to support growing needs of business, We at Avaniko can help you [Link to Contact Page] | Tally is unable to integrate or work with advanced technology |
| Transaction Volume | SAP Business One Can handle millions of [business] transactions. | Tally will be slow after couple of years of transactions and the data needs to divided into years to improve performance |
| Security | SAP B1 has multiple layers of security including access of screens at the document level | Some level of security is available but can be easily breached |
| Workflow Management | Easy and configurable workflow including approval and automatic emails on exceptions. SAP B1 comes with the global business practices bundled with it. | All this will be based on requirements and will require customisation. More often, you as businessman will not be able to think what's needed unless offered as bundle. |
| Integration Capabilities | SAP for ecommerce/GST: SAP B1 comes with easy integration capabilities, that will be help you integrate with Ecommerce, Retail, Eway bill, GST & any third-party system as per your needs. It's more like a configuration. | This again needs to be built and more often tally users receives an excel from other system and massages in excel and import into Tally. Using Tally as a centralised master data system is not possible |
| Mobility | SAP Business one comes with the standard mobile App for both IOS & Android for approval and Reports | Tally is not ready for mobile |
| Ease of Use | Based on the screen and data needed, the user's needs to be trained and prepared. It requires some training for preparing the users after which SAP B1 can be user friendly | Tally is very user friendly and requires very minimal training. Most of the companies also allows to edit data in tally and so its very suitable for micro businesses. |
| Geography | SAP B1's is used globally used by 70 K Business worldwide and increasing demand for SAP B1 software in India and has covered all the requirements of businesses | Tally is more an accounting software with main focus on India and will need lot of customisation to support businesses |
| Inbuilt dashboards and BI | SAP Business one has inbuilt Business intelligence [Internal link to Avaniko BI Page Section] tools at user level for analytics | Business Intelligence is not possible in Tally |
| Single Platform for all Channels | SAP Business One can act as single platform to manage Retail, Ecommerce and Wholesale Channels of business | With the capabilities of Tally, it's very difficult and will need a lot of manual uploads and downloads |
| Innovations | SAP B1 is connected with Telegram, WhatsApp, Google voice, Google Calendar etc. | It will be a very challenging task with the existing architecture for the tally partners to support this innovation. |
| | | |
Avaniko finely coalesces technology along with business proceedings by building trustworthy ERP business systems on which enterprises can rely upon. We have invested ourselves in curating an innovation that matters. We can help you with your Tally migration to SAP Business processes or building a custom solution on SAP.
Note: Funnily, we also have SAP integrated with Tally for our unique customer requests ?
Contact us