Web portals are the new wave of operations in any business sector – Be it retail, manufacturing, distribution, QSR etc. Find the reasons here on why we say it is the new wave!
Why web portals?
They are designed websites which not only gives information but also help take inputs from the user in a more simplified manner as such a person who has very little knowledge of computes can also be trained to use web portal. Further to add to this simplicity of use, portals are accessible via web browser on desktops, laptops, smartphones etc.
Too many tabs? Too complex for your employees?
While using an ERP system, most companies feel that the system is complex for usage by their employees as their requirements are to handle only a small section of the system wherein, they are bound to go across several menus, screens and inputs, a couple of dozen times in a day. To eliminate this time-consuming process, we have developed several portals for ease of inputs which are directly integrated to the SAP Business One on the back-end.
Personalization is the key!
These portals can be customized to the company's choice of fields & requisites, so it becomes easier for vendors, customers, employees to provide input data for the ERP system. One such POS for a sales employee at a home appliance retail store is given below: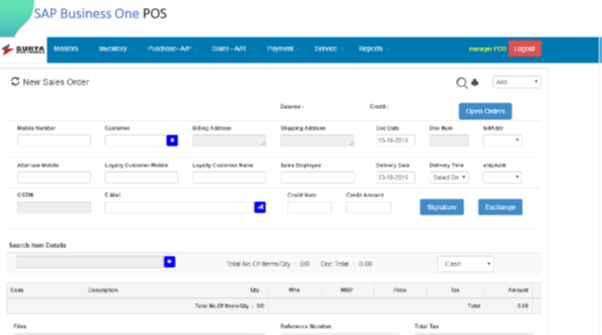 The basic customer details are entered into this POS (Point of Sale) screen so the data can be captured accurately within less time for the back-end SAP Business One.
Web portals also restrict access and allow only certain information viewble by the user as defined by the company norms.
Integration issues?
Not every ERP vendor can seamlessly integrate the web portals to the ERP system, this is where the real problem begins. However efficient and easy the portal might function, if it fails to integrate to the core system – all the data is lost & the purpose of simplication turns in to an extreme chaos.
Types of portals
We've designed several portals such as vendor portal, customer portal & employee portal for ease of operational activites. We have also built expense claim, time sheet login portals for our customers' specific needs & integrated the portals with SAP Business One.
To conclude, web portals can make life easier for users working around the ERP system & also is a cost-effective alternate to buying several licenses. Web portals are here to stay and the faster we adapt to it, the more succesful ERP implementations where the end-users comprise majority of the ERP usage.