There are lot of stories when it comes to ERP implementations which an entrepreneur comes across from either known sources or online reviews. We will list out here, the facts of failures for your understanding & also as a reference when you decide to finalize on an ERP system:
Low-Priced / Local-ERP Alternate
The first mistake most entrepreneurs commit is, falling for the low-priced ERP systems which makes the implementations failure even before the start as they are not equipped to professionally nor digitally enhance your ERP experience.
It might seem cheaper for now but in the long run, it costs you both money & time – more than expected if you would have chosen the right system at the beginning.
ERP Implementation Strategy
They say that the success or failure of an implementation lies in the methodology adapted by the partner before the initiation of project. A well begun job is half-implementation done ?
A standard implementation should follow the phases or approach given below & monitored closely for deviations & change management of the company to ensure successful implementations: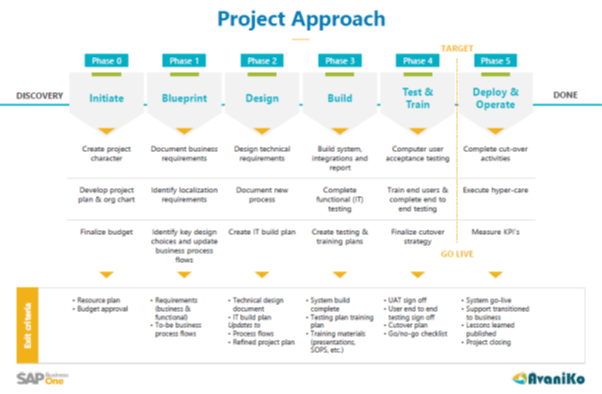 Bitter Experiences
We have come across several companies who were overly cautious and sceptical with us due to past experiences with other partners or vendors for gone-wrong implementations.
The only advise to entrepreneurs is to consider the experience & project successes of the partner to eliminate this fear. Do not hesitate to ask 15/20 references or pick any customer from their list for a feedback call. Best source of success in ERP implementations lies in choosing the right partner with an absolutely stunning customer track record.
The answer to the right partner not only lies in the stories of entrepreneurs who have failed implementations but also in the reference check phase. Check thrice before signing up!!
Online Presence
Be it a simple google/glasdoor review or even a vision statement of the company – it can say a lot about who they are as a company & the content they have put out including the values they follow!
Watch out for fake marketing posts or no-brainer content to stay out of, do not fall for the word free and be cautious if it is mentioned on the official website. At the end of the day, values & content put out on social media platforms can decide the fate of even brands we buy, why not look the same way for the software that helps you run the entire business??
In short, RESEARCH, REVIEW, REACH OUT to always know what system is best for your company & who is the best partner out there to collaborate with for a long-standing business relationship.
Because for companies who value their customers, they will always be there to answer every question before you decide to invest your time & money! ?