If you are an entrepreneur and you are looking for an ERP system for your small or mid-sized company, you've reached the right page and here we are to guide you through the choosing the right ERP vendor for your organization.
Unfortunately, we understand that most ERP decisions in small or mid-sized companies are based on the cost or within the budget of the organization. Keeping this on mind, we wrote this article to help you understand the right ways to choose the ERP partner
The below are the few basic mandatory checks that are required to be understood to choose the right ERP partner:
After-Implementation Cost which coves all the upgrades, support, innovations, advanced technological solutions, maintenance, cloud services etc. Make sure the quote you get is inclusive of end to end implementation of your organization and not just a few parts of the implementation. The figure quoted might be low initially to get an entry, and then increased with time when there is no way out of the system or partner.
Experience of the partner/vendor in successful implementations. Read out their success stories & ask for a few references to call. The success stories will speak about their experience & client relationship.
Number of third-party vendors involved is crucial to identify if the ERP partner provides complete solution or just a part of your requirement wherein you would need additional vendors to integrate in to the ERP system. Look out for an ERP partner who given end to end solution rather than just the core-ERP.
Breakdown of cost involved & complete understanding of the offering is essential part of evaluation of ERP vendor. The right partner will break down license cost, implementation
SAP Business One is a SME offering of SAP products which is sold and implemented by a large network of SAP Partners across the globe. Even if you are unhappy with one vendor, you can switch to another without the hustle of changing the entire ERP system.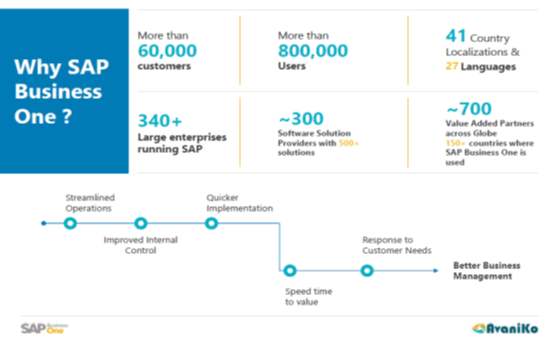 We can say, SAP Business One is the most affordable ERP solution for any small or mid-sized company, given its flexibility and also being a future-ready platform for your ever-growing business needs. Evaluate this system before you finalize the ERP decision and we are sure it will be worth your time and money!