Food chains or QSRs cannot grow with tally! This is a fact and, in this article, we will list the points below to understand why it is a proven fact:
Quick Service Restaurants, known as QSRs are the new trend in restaurant industry. Known or followed by the west, it is here in India to stay! There are plenty of QSRs today – from chai shop to pizza outlets, we have a variety of new ones opening every day.
These food chains use a front-end system for the order taking, but on the back-end they lack systems and are using tally for accounts, another third-party application for inventory etc. This brings a chaos to the operations where multiple applications are used & the very purpose of data accuracy is lost for accounting purpose which in turn leads to bad practices of business.
Things we can simplify for your business:
Accounting integrations with aggregators such as Swiggy & Zomato to calculate commissions deducted. This process can be automated to get accurate accounting information.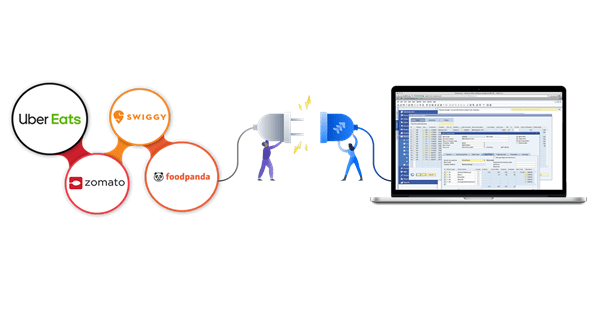 Supply chain requirements in stores can be handled systematically & hence ensuring there is no shortage or delay in the same due to a poor supply chain management.
Vendor payments can be controlled through the system, eliminating paper processes completely so vendor validation becomes much easier and accurate. For example, if you are purchasing ice & lemon from a local vendor for 40 stores, how do you ensure it has been provided for 40 and not 30? Validating vendors and controlling their payments is a key aspect of purchase control.
Store to store request can be made easier wherein you will have a consolidated and centralized database.
Excess inventory sharing – wherein the remaining items of a store can be sent through telegram (check our telegram integration article) to nearby stores for pick-up & usage without wastage.
Store expansion becomes painless as the system established a pre-defined process for the new stores.
Defining process, precise tracking of profits & budgets will definitely have a huge impact in your business as every sale, every purchase is a key to operating efficiently in QSRs.
Stay tuned for more articles on QSRs & to learn how SAP Business One will help you grow! 😊